CHRISTMAS SCRUBBY ON THE KISS TRIANGLE LOOM
By Loom Spin

©

November 2017

This is a pattern to make a scrubby with the KISS 20 Peg Triangle Loom
Its a perfect Christmas present
Fun,easy and fast to make
Tools :
- KISS 20 peg Triangle Loom
-Crochet hook that comes with the KISS Triangle Loom And crochet hook size : US 10,5 - EU 6,5mm
-Needle (best to use a wool needle)
Materials :
-2 Scrubby yarns :Using Green Sparkle Scrubby yarn (+-30 yards) And Red Sparkle Scrubby yarn (+- 2 yards)
Instructions :
- Take your KISS Triangle loom
- Take the green Scrubby yarn
-
DOUBLE stranded !!
-Tie a knot on the beginning of your double stranded yarn,so it keeps it good together to weave easily
-Start weaving with your double stranded yarn, Its the same way as single stranded but don't forget to go OVER-UNDER 2 threads each time
Here is a picture of the weaving: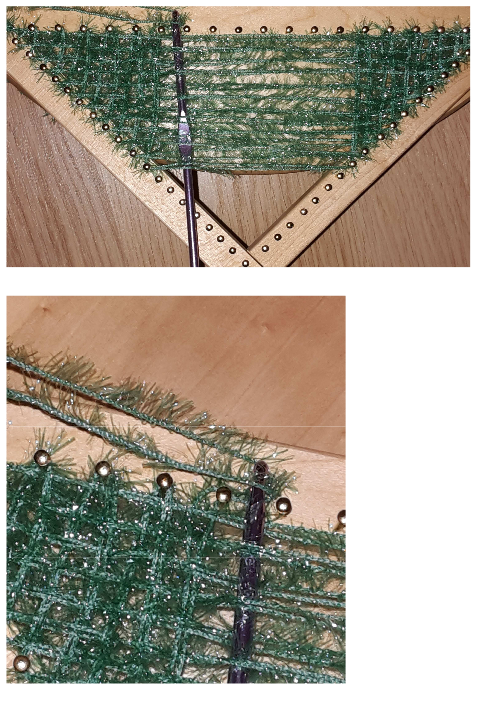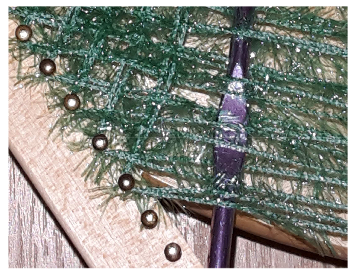 -When the weaving is finished, bind off the threads And remove the Triangle from the loom
-Make a second Triangle exact the same way
-When this Triangle is finished
-Take both Triangles and take the Red Scrubby yarn
-Use crochet hook : US 10,5 - EU 6,5mm
-Place the longest sides together and take your crochet hook and start with the Red Scrubby thread SINGLE stranded and crochet it together with a single crochet stitch
This is a great youtube video that explains how to crochet 2 pieces together with single crochet: Joining Squares: Single Crochet
We are already at the last part and that is to sew in the ends.
It is handy to use wool needles because they have a bigger eye and that is easier to work with because of the two stranded threads and the thickness of the wool needle makes it easy to go through the scrubby to sew in the ends.

Now you're finished,congratulations!

I hope you will enjoy using the scrubby or make it as a present for your family and friends.
Its a beautiful Christmas present and you can make a few scrubby's  and gift it together with a dispenser with wash gel and a small bowl to put in the scrubby's and dispenser.
Enjoy weaving!