Kiss Bookmark

By Loom Spin

©

November 2017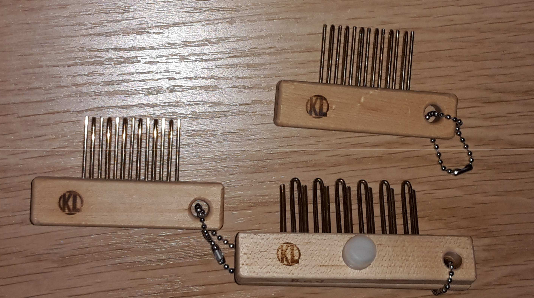 -Materials :
-Loom Hook
-Yarn US 6-7 and EU 4,5 - 5mm I used Durable Brilliant Glam
- Wool Needle
- Scissors
Extra materials :
-Charm (I used a yarn ball with knitting needles charm)
Stitches :
S : Skip one peg
K : Knit (ewrap)
HS : Half Stitch
Instructions :
Cast on 6 pegs (leave a long loop so you can attach the charm at the end)
S1, K4 , HS Repeat this row 30 times or until the desired length
After the 30 rows are done Bind off
Take the wool needle and sew in the end Adding the Charm
Use the yarn from the cast on, cut until the desired length
And add the Charm using a needle that you put into the charm from the front side to the back side, so the needle with yarn comes out on the back side of the charm. This way you can finish it nicely with 2 knots and then cut the rest from the yarn.
Your Bookmark is finished.
Enjoy using it in your books or it is a nice present to gift to your family or friends.
Happy looming.