If you are a new Kiss loomer or first time loom knitter we wanted to give you a page with some very basic beginner information.  We hope this helps you.  If you would like more in-depth instructions or additional instruction please visit our Learn tab for Videos and FAQ's.  One of the most important things you need to learn in knitting is "what is gauge and what does it mean".  I highly recommend you start with this document before knitting on your loom.  It explains whey having a gauge adjustable loom is an amazing tool to have! - Let's Talk About Gauge.
Looking for Weaving information? Take a look at our videos here.
So I have this loom - now what do I do?
Your loom comes boxed ready to knit on with 0 washers between the peg and pin boards.  If you have a Small Gauge Loom, Regular Gauge Loom, or Modular Loom you have the option of adding washers.  We include up to 7 washers per location on the bolts.  Longer looms - 60  or 77 SG, 40 or 53 Reg, and our larger 40 and 60 peg Modular Looms all have a pin (or multiple pins) on the side of the pin board board - this is to hang washers on - see video below. 
You don't need to add washers or ends on your loom before giving it a try!  So feel free to just grab some yarn and follow along below.  We recommend starting on one side first.  Once you see how the yarn works on the loom it will make more sense on the corners.  This document will help you with setup on the 1 peg slider - Slider Setup.  When you are ready to add end pairs take a look at this video for setup.
Casting On
I recommend starting with a double e-wrap cast on, also called a non-loopy cast on.  This will give you a nice clean cast on edge and is a typical cast on you can use for most projects.  The U-stitch cannot be used as a cast on because it is open and will unravel.  For other options on cast on's visit the learn tab.
Knitting
The most typical stitch you will use is a u-wrap knit stitch.  The u-wrap stitch will give you a nice V shaped stitch (e-wrap gives you a y-stitch).  This stitch is smaller than an e-wrap but a little larger than a traditional knit stitch (reverse purl).  Just practice knitting back and forth for a while to get used to the "in front of the peg, behind the pin" motion.  Remember do not wrap the outside pin, stop at a peg - see picture and video below.  When you turn you can slip the first stitch or knit the first stitch.  If you are seaming a future project you will need to knit every stitch.  The video shows a great explanation of how to do this.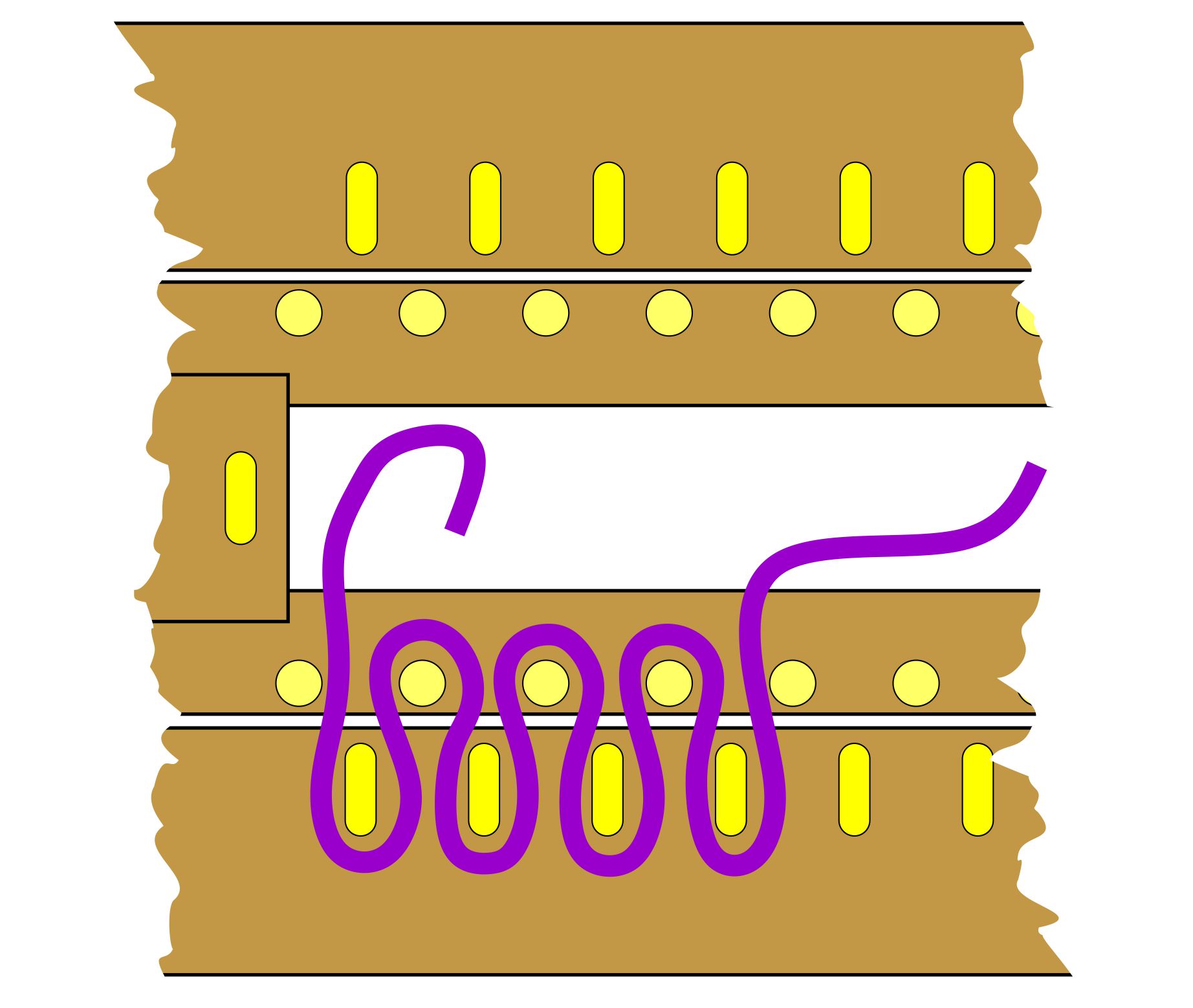 U-Wrap Stitch
Slipping & Knitting First Peg
Here is a closeup video of how the pin system works and how the fabric flows down the back of the loom.  At first you will notice the yarn piling up a bit, but if you tug down a little in back it will come loose easily unless you've snagged a pin.
Purling
Next you can try purling on your loom.  To make a fabric that won't curl on the edges you will need to make some sort of knit and purl combination to keep the fabric flat.  There are many options on this but the most common is the garter stitch.  For the garter stitch you knit one row across, then purl the next row.  You repeat this knit and purl pattern for the edges or your whole project.  The purl will form a vertical line on the front of your fabric and will sit higher than the knit stitch creating little ridges.
Binding Off
Binding off is the process you use to close up your knitting to take it off the loom.  There are many different bind-offs you can choose from.  We will look at one here, but you can view others under our LEARN tab.  The super stretchy bind off is a very easy bind off that provides a nice tight looking bind off with plenty of stretch.  It's great for cuffs and collars especially.  It also pairs nicely with the double e-wrap cast on for a similar looking edge.
Now What?
So you now have all the basics covered!  Congratulations!!!!  After you feel comfortable with knitting and purling it's time to start a project! We have a few on our pattern page to help you get started.  As always we hope you enjoy your new loom and if you ever have any questions please do not hesitate to ask!  This email address is being protected from spambots. You need JavaScript enabled to view it. or join us on our Facebook Club.